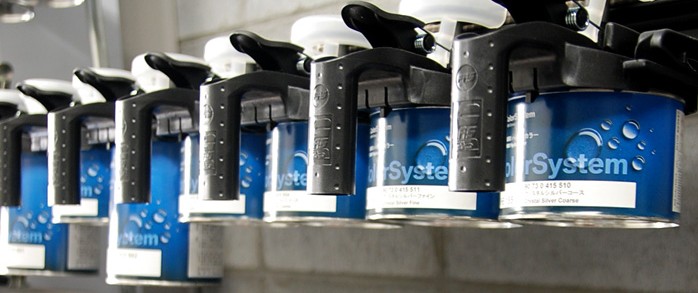 BMW Color System
As of May 2008 the Wagner Certified Collision Center proudly introduced ColorSystem by the BMW Group as another part of its ongoing success with the latest technology investment of water-borne refinishing products.
When you choose the Wagner Certified Collision Center and ColorSystem, you choose superior quality and results.  With the innovative water-based paint technology designed by the ColorSystem team, we are able to achieve uncompromising quality while promoting a safer and friendlier environment during the refinish process of your vehicle.  What does water-borne mean?  Water!  What does solvent-born mean?  Solvents and Chemicals.  Which sounds better to you?  Water-borne products omit safer VOC's in to the air we breathe and produce minimal clean up, resulting in less hazardous waste disposal verses traditional solvent-born products currently being used with a majority of collision centers nationally. What does all this mean?  A safer environment for everyone.  Today, we all have concerns about the environment we live in and therefore we must all do our part in making it a safer and better place.  Here at the Wagner Certified Collision Center, we are doing our part by incorporating these environmentally safe products as part of our continued commitment as to the way we do business by better serving not only our customers, but also our community.
When your vehicle is painted by the Wagner Certified Collision Center, you can be assured that it was painted within manufacturer specification and with environmentally safe and compliant materials that are authorized by the BMW Group and approved by a majority of other manufacturer's.
ColorSystem has a solution to meet every refinishing challenge and task. ColorSystem provides every thing from cleaners and primers; from fillers, base coats and clear coats; to paint mixing technology and center support.
With the ColorSystem's plastic repair kit, cracks and holes found in many types of plastics are easily repairable with this technology.
The BMW Group discovered at a very early juncture that water-based paints were amongst the most advanced in paint technology.
Technologically speaking their importance was due to increase and therefore all BMW Group production facilities and plants have gradually been converted to this technology.
Today, ColorSystem products surpass current requirements and conform to regulatory standards.
With ColorSystem, we can easily achieve the right results for any set of circumstances or requirements. The refinishing products are perfectly matched and are usable on all BMW Group substrates, as well as other manufacturer's vehicles.
ColorSystem also includes accessory products that include paint sticks for touch-ups, along with special paint protection films that can help extend the life of your vehicle's finish
Contact
Wagner Certified Collision
700a Plantation Street
Worcester, MA 01605
(508) 581-5900
Body Shop Hours
Monday:         8:00am – 5:00pm
Tuesday:        8:00am – 5:00pm
Wednesday:  8:00am – 5:00pm
Thursday:      8:00am – 5:00pm
Friday:            8:00am – 5:00pm
Saturday:      Closed
Sunday:          Closed
Wagner Certified Collision Center
Auto Body Repair & Paint Shop